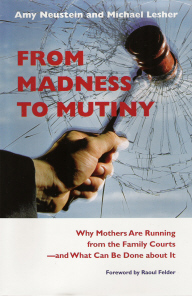 Michael Lesher, together with sociologist Amy Neustein, is co-author of From Madness To Mutiny: Why Mothers Are Running from the Family Courts—and What Can Be Done about It. The book was published in 2005 by Northeastern University Press/University Press of New England, ISBN 1-58465-462-7, in their Gender, Crime and Law series, with a Foreword by Raoul Felder.
From Madness to Mutiny is the first in-depth treatment of the scandalous behavior of the family courts in cases in which parents—usually mothers—make good-faith allegations of sexual abuse against a child's father. This book, popularly called M2M by growing numbers of readers, sold out 90% of its initial print run in the first three months. It can now be found on the shelves of over 200 university and law school libraries across the country from Yale Law School to Stanford University and UC, at Israel's Bar-Ilan University Law School and Tel Aviv University Law Library, in Canada at McGill, the University of Alberta and the University of British Columbia, and even in South Africa and at three universities in Australia.
What makes this well-documented book so popular among mental health professionals, lawyers, and lay readers? It has hit a nerve. All too often family courts turn against the very parent who tries to protect the child from abuse. Amy Neustein and Michael Lesher have revealed the roots of this problem, combining sociology, legal scholarship, and painstaking research, to produce a rigorously documented, lucidly written j'accuse of America's family court and child welfare system.
From the Foreword by matrimonial attorney Raoul Felder:
What I have seen as a practitioner, this book reveals in punishing detail… Neustein and Lesher ... believe that until the system is reformed and rethought at every level, it will continue to be a dangerous one -- dangerously malfunctioning, dangerously betraying its critical task.
Professor Maureen Therese Hannah, Siena College:
A groundbreaking new book that is perhaps the most highly readable scholarly work I've encountered in my 14 years in academia ... The very first to provide the historical and contextual chronology of this system's steady decline into chaos and corruption over the past two decades. It is eminently accurate and rigorously documented -- a book that will hit scholars, professionals, and lay persons right between their eyes. This is the book that mothers have been waiting for ... I consider this book among the most important of the decade.
Randy Burton, Esq., former Texas prosecutor:
From Madness to Mutiny offers an unexpurgated view of our nation's criminally dysfunctional family court system.
Professor Kathleen Coulborn Faller, School of Social Work, University of Michigan:
This book describes how systems and professionals fail sexually abused children… Neustein and Lesher champion these children and their mothers and intend that their voices will be heard and heeded.
Lee Grant, child advocate and award-winning actress:
A book for all mothers crushed by an unfair system.
Professor Daniel Pollack, Wurzweiler School of Social Work, Yeshiva University:
From Madness to Mutiny is a book whose ... effect is to jolt us with an illuminating barrage of riveting descriptions, information, commentary and philosophy.
FROM MADNESS TO MUTINY INCLUDED IN NATIONAL N.O.W. FAMILY LAW ADVISORY AD HOC COMMITTEE'S RECOMMENDED READING LIST (2006)

FROM MADNESS TO MUTINY CHOSEN BY UNIVERSITY PRESS OF NEW ENGLAND AS ONE OF FOUR TITLES FEATURED FOR WOMEN'S HISTORY MONTH (MARCH 2006)

FROM MADNESS TO MUTINY NOMINATED BY PUBLISHER FOR SCRIBES PRIZE FROM THE AMERICAN SOCIETY OF WRITERS ON LEGAL SUBJECTS (2006)

FROM MADNESS TO MUTINY CITED IN THE CHRONICLE FOR HIGHER EDUCATION (May 27, 2005, p. A19)


Home • Michael Lesher • Curriculum Vitae • Legal Work • Endorsements
Publications • Press and Presentations • From Madness to Mutiny • Reviews • Libraries
Contact